HOME
> COLLABORATION > Osaka e-Pass 1 Day Pass+ Osaka Bike Share 1 Day Pass

Osaka e-Pass 1 Day Pass
+ Osaka Bike Share 1 Day Pass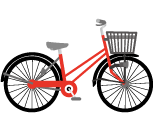 Want to avoid the crowds? Try bike share to travel around the city freely! Of course they are electric bikes, so you can go a long distance without breaking a sweat. Some facilities are closer if you go by bike.
Usable period
Bike share is available until 23:59 on the day of use
How to use
Please check Docomo Bike Share Website
https://docomo-cycle.jp/?lang=en
Important Notes
In order to use the bike share (Docomo Bike Share), you will need to get an IC card from the exchange location.
For more information, please check the website where you purchased the pass from.